Mountain cabin Untertrumpedeller is located at the entrance of Tschamin Valley, directly in the nature park Schlern-Rosengarten. You can reach us by starting:
from the free parking in Saint Zyprian (bus and cable car stop)
about 45 minutes
about 20 minutes
from the free parking at the hairpin bend no. 1 in Saint Zyprian
about 30 minutes (also suitable with strollers)
about 15 minutes
from the free parking in Weißlahnbad
about 45 minutes

At all three starting points there is also the stop of the shuttle bus and of the public bus to Tires, Bolzano and to the Carezza Pass.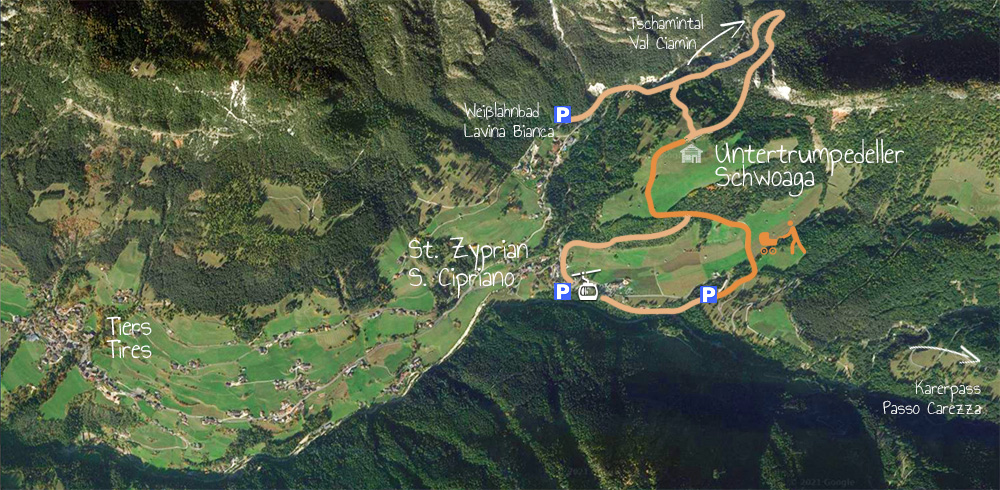 Our hiking tip for you:
From Bolzano or Tires you can take a bus to the cable car valley station of the Saint Zyprian. From there continue on foot along the forest path that leads to Nigra Pass. After about 5 minutes, as soon as you reach the bridge that crosses the stream, take the path n. 7 to the left in the direction of Tschamin valley, which leads directly to us. The way back is down in the direction of Weißlahnbad to Tschamin Schwaige. From here take the path to the left to the starting point, at the valley station of the cable car.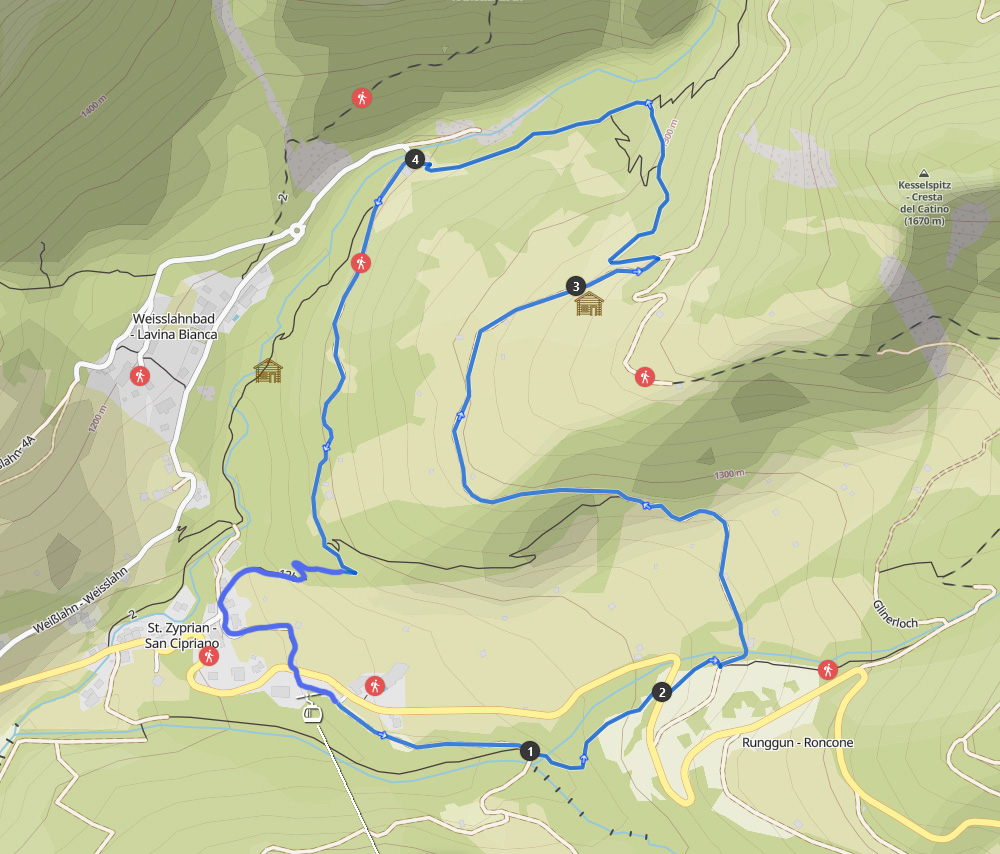 Tour Information:
Duration: approx. 2 hours
Length: 5 km
Elevation: 250 m
Our biker tips:
Starting from the free parking at the hairpin bend n. 1 of Saint Zyprian, follow the forest road n. 13 to our mountain cabin.
If it still seems too early to make a stop in for a bite to eat, then simply continue cycling along the forest path into the wild and romantic Tschamin valley.
At a fork take the slightly uphill path on the right and continue for 3.6 km. Then descend and cross the stream. You will find yourself at the "Rechten Leger", a unique spot with an imposing view of the rugged mountain peaks of the Tschamin valley.
From here, continue along the path that runs downstream (there are two very short and rather challenging passages, where it is better to get off and push the bike, if necessary) until you come again to the forest road. Continue for 5 minutes and you will find yourself at our cabin.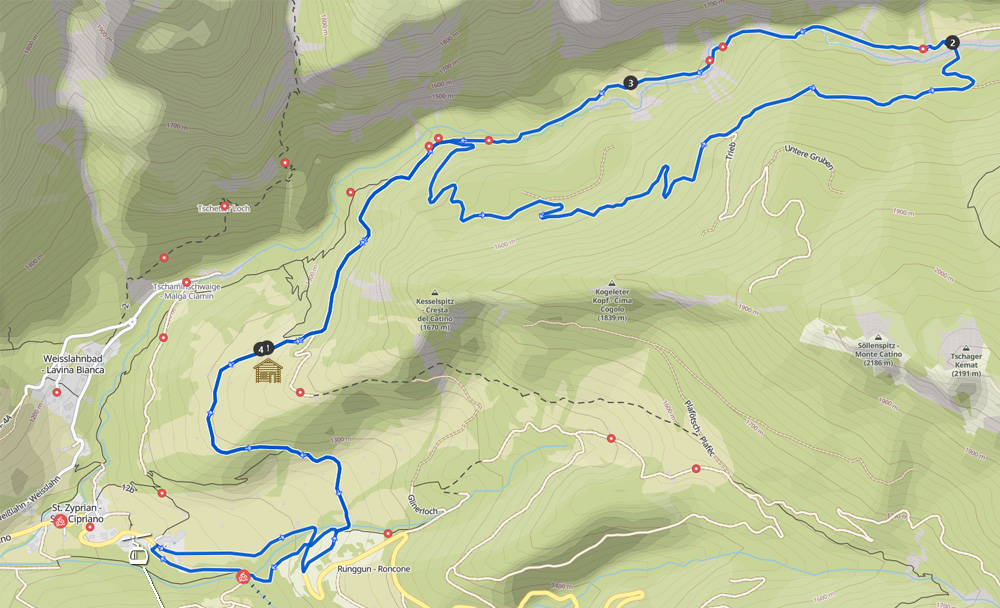 Tour Information:
Duration with e-bike: approx. 2 hours
Duration with traditional mountain bike: approx. 3 hours
Duration on foot: approx..4,5 hours
Length: 14 km
Elevation: 600 m
Here are so many tours you can plan. Your host will certainly advise you best!

By the way:
If you are hiking outside the marked trails, enter the following coordinates for your GPS to reach your destination: UTM: 46.477687, 11.566875